Amidst the recent failures of Signature and Silicon Valley Bank, financial institutions nationwide are facing a heightened level of risk. On March 17, 2023, LoanStreet hosted a special webinar featuring two key architects of the Troubled Asset Relief Program (TARP), who shared their insights on the Fed's recently announced Bank Term Funding Program (BTFP).
Promontory Financial Group's Maya Wilson joined LoanStreet CEO Ian Lampl to discuss BTFP, a lending facility created by the Federal Reserve Board and Treasury to instill confidence in the economy and help lending institutions manage risk during this time of uncertainty. 
Here are some key takeaways from that discussion:
1: The BTFP should be utilized, not feared.
The BTFP will improve liquidity, can help improve margins and ultimately result in greater credit facilitation to consumers and businesses. All federally insured financial institutions have the option to obtain funding at a low-cost, fixed interest rate with 100% advances of eligible collateral at par value. The BTFP allows for better risk management through cheap financing of under-water eligible collateral.
2: The BTFP is flexible by design with broad eligibility requirements and terms, so act now.
Federally insured depository institutions of all sizes are eligible to participate in the BTFP as long as they have collateral that is available for purchase by the Federal Reserve in open market operations. There are no fees associated with the BTFP and no penalties for prepayment. Because borrowers can repay at will, they can actually take out one loan today, repay it within the year, and then take out another loan (and keep repaying/borrowing like this before the advance deadline of March 11, 2024). Although advances made through the new lending facility will be limited to the value of eligible collateral pledged by the borrower, there is no limit to how much the borrower can pledge. Advances made under the Program are made with recourse beyond the pledged collateral to the eligible borrower, and the BTFP will not impose any new requirements on borrowers with respect to employee compensation, distribution of dividends, or any other corporate decision in exchange for accessing this facility.
3: The BTFP presents compelling investment and trading opportunities.
By accessing the BTFP, financial institutions can then use these new proceeds to acquire more profitable earning assets whether through new loan originations or purchases of loan participations. Given the "buyer's" market for most assets, accessing fresh capital in this fashion will likely substantially improve the financial performance of participating institutions. For example, as shown in the scenario presented in the table below, a bank or credit union borrowing from this new program can measurably enhance their returns when purchasing a participation. Using the BTFP funding to purchase a LoanStreet auto pool offering, you can pay back the principal as the participation pays down with a final lump-sum repayment at program maturity of the remaining balance that had been borrowed.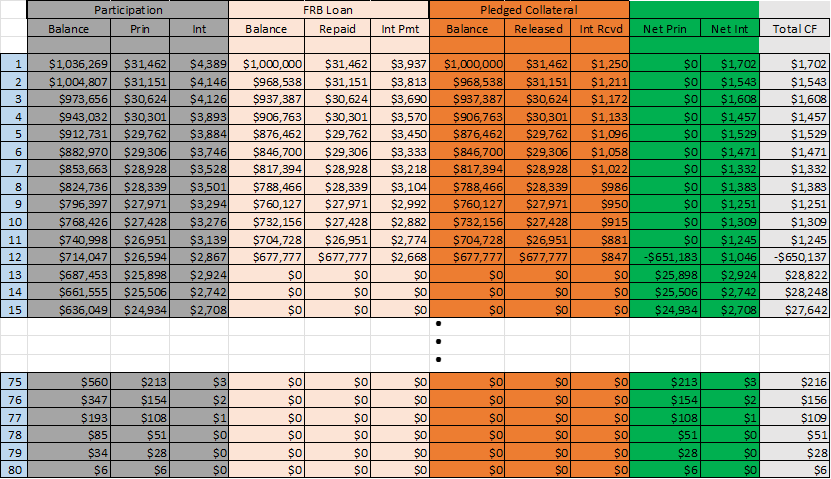 96.5 Participation price
$1mm Treasury/borrowing
1.5% Treasury coupon
4.72% loan rate
LS prepay assumption
No losses
7.12% yield without borrowing
10.82% yield with borrowing
4: From a policy standpoint, the BTFP isn't a last resort but a source of strength.
Treasury will use the Exchange Stabilization Fund to provide $25 billion of credit protection to Federal Reserve Banks in connection with the Program. Given the size of the institutions that have made recent headlines, this number might seem small, but it's important to remember that theoretically, there is no limit to the Fed's capacity.
If you're eligible, we encourage you to participate in the Bank Term Funding Program. 
Missed our webinar on the BTFP and want to learn more?
Click here to watch a full recording.
Already have a loan participation program and plan to participate in the BTFP? 
Contact sales@loan-street.com to learn how the BTFP can enhance your participation program.